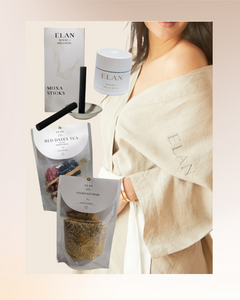 Winter Warming Bundle
Regular price
Sale price
$215.00
Tax included.
Shipping
calculated at checkout.
---
A specially curated bundle for you to tackle this cold weather. Filled with warming dishes, drinks and warming self care practices, this bundle is suitable for the winter months or your own winter, that is your early postpartum. 
What's inside? 
The bundle includes: 
1 x Elan x The Herborium Red Dates Tea 
This classic reinvigorating red dates tea 红枣补血茶 (Hóngzǎo bǔ xuè chá) blend is deliciously infused with rich antioxidants to boost your health and wellbeing.
Designed to warm your body from within, strengthen your spleen and digestive system, enrich blood, beautify skin, nourish your liver and kidney, all the while balancing mood. No wonder this natural remedy has been hailed by our ancestors as a go-to, all-rounder Qi booster.
In Traditional Chinese Medicine, moxa is utilized within postpartum care to provide healing benefits for mothers. Moxibustion is a TCM technique that is often used in conjunction with acupuncture. Derived from mugwort leaves, the burning of moxa sticks strengthens the blood, stimulates Qi (or energy), and maintains good health. The heat generated through moxibustion can enter the meridians unblocking any stagnation and allowing energy to flow.
Light-weight full-length robe inspired by the elegant simplicity of Japanese design, with wide cropped sleeves, side pockets, and a white waist tie. Made from 100% stone-washed linen. Designed in Australia. 
1 x Elan x Frank Green 10oz Stainless Steel Ceramic Insulated Food Container Cloud 
An elegant Elan x Frank Green Ceramic food container to enlighten your Mama experience. Designed to store your food or snacks at your desired temperature. Easy and portable, perfect for meals on the go. Custom design by Elan House of Wellness.
1 x Postpartum Kitchari (Dry Mix)
Kitchari, a traditional dish in Ayurvedic cuisine, is known for its nourishing qualities and gentle impact on the digestive system.
This comforting recipe combines a variety of ingredients that are often enjoyed for their balanced and wholesome properties. While it is believed to be a nourishing choice, individual experiences may vary.
Kitchari has been enjoyed by many as part of a balanced diet and is appreciated for its comforting qualities. It can be a delightful addition to your culinary repertoire, offering a nourishing and satisfying option.
Please note that personal tastes and preferences may differ. If you have specific dietary concerns or health conditions, it is advisable to consult with a healthcare professional or nutritionist for personalised advice.
Bundle is saving: $43.35